Every year Halloween is a time for people to transform into splendid costumes, from spooky to adorable. Therefore, everyone expects, welcomes, and prepares for Halloween very carefully, from Halloween costumes to fun and spooky Halloween activities on this occasion. You can explore more about Halloween costumes here.
There's the creative side of carving jack-o lanterns, making unique costumes, or crafting some cute Halloween decorations. But, there's also the spine-chilling excitement of visiting a haunted house or taking a trail walk through a corn maze of terror. These and other Halloween traditions are great experiences for the whole family.
Whether your idea of ​​Halloween is downright spooky and scary or you prefer something more friendly and tame, there are plenty of fun activities for everyone. Take on a few of these to get the most out of your Halloween experience. Many of these activities date back to the late 1800s and early 1900s. However, the intent and meaning of these Halloween traditions have changed over time.
Here are the top 8 family Halloween activities that you will want to make into traditions year after year.
No.1 Chill Halloween activities by going Trick or Treat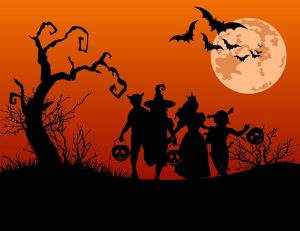 Trick or treat is one of the traditional Halloween activities popular with everyone, every home that you definitely should not miss this holiday. Although the trick or treat has been around for longer, it gained popularity in the 1950s after World War II when rationing of sugar was no longer necessary. It remains extremely popular to this day.
Children, teenagers, and young people dress up with costumes and creative devil masks, then carry lanterns from house to house in the neighborhood, walk around the neighborhood knocking on doors and say "Trick or Treat" – "Giving candy or being teased." This sentence can be understood as simply: "If you want us not to play bad, then treat us to something." With this, children, teenagers, or young adults collect as many snacks from as many houses as possible.
Usually, neighbors always want to avoid "tricks", that is, to play tricks, so they often treat them with candy and fruit (according to the custom with coins inside).
It can be especially fun when adults have the spirit of things too. Courtyards decorated in fun or weird way create the right environment. Creepy music emanating from a house gives children a shivering feeling that keeps them from getting closer to the desired food. And when adults wear costumes, there is bound to be a sense of closeness between family and neighbors.
No.2 Tell ghost stories and watch Halloween horror movies.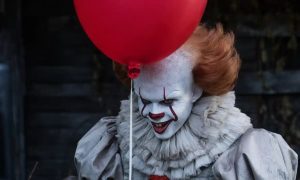 When it comes to Halloween, people often think of ghosts. Therefore, the ghost stories become even more ghostly on the night of the festival. We can sit next to our family and immerse ourselves in the stories of our grandparents or parents.
This is also a peaceful time with family. This Halloween activity is both warm and scary, with horror stories and footage.
You and your family can wear uniquely designed family t-shirts that are both simple and easy to wear for the whole family but also very chill with the Halloween atmosphere with the family.
Let's Watch Scary Movies Holiday Halloween T-Shirt
If you are looking for a trendy shirt, no need to worry, we have covered your back with the Let's Watch Scary Movies Holiday Halloween T-Shirt
BUY NOW
Episodes of TV series and Halloween-themed specials (especially for kids) are usually aired on Halloween or before the holiday, while new horror films are usually released in theatres before the holiday. To take advantage of the holiday atmosphere.
Whether your movie style is something like Charlie Brown's The Great Pumpkin or more terror films like The Exorcist or The Shining, it's always fun to do a Halloween tradition of being in a series or two. Movies (and especially fun getting together with a group to watch scary movies!).
This is also a peaceful time with family. This Halloween activity is both warm and scary, with horror stories and footage.
No.3 Carve a Pumpkin – One of the simple but attractive Halloween activities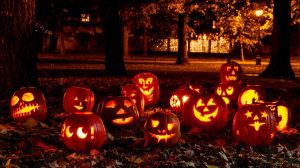 The Lantern Festival on Halloween is one of the beauties that make this festival special. Pumpkin lanterns make the landscape full of wonder. When we see them, we know that this is Halloween – a symbol of the Halloween celebration.
Although pumpkin carving has become quite an art with innocent and sometimes very intricate designs, it didn't start that way. Most people don't know that pumpkin or other root vegetable carvings started creepily. 
Carving a jack-o-lantern originated with the Irish and, more specifically, a devious man named stingy Jack. The myth is that when he died, he wasn't accepted into either heaven or hell and wandered on earth with only a lump of coal to light his way, which he placed in a hollowed-out turnip. As the myth goes on, Jack roams the world, scaring children. Yikes!
The American tradition started using a pumpkin instead of a turnip because it was more prominent and easier to carve. Children often play the game of chiseling a pumpkin, potato, or squash; then carve shapes of faces on it, and put candles inside to light. These lanterns are called "Jack O'Lantern".
As the years go by, the myth of scary Jack has been completely lost, and now pumpkin carving is just for fun and has nothing to do with dangerous spirits.
No.4 Hold a Halloween Costume Party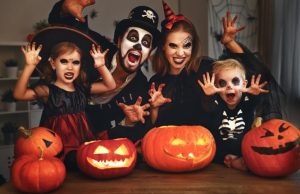 To make your Halloween more meaningful than anything, one of the fun Halloween activities is to organize a party about Halloween costumes with weird, unique, or cute outfits.
Costume parties are very popular among both the young and old. It's a lot of fun coming up with a unique costume that will leave guests wondering who you are. Although there are lots of great choices when buying a costume, it is also a lot of fun to get your creative side working and make your costume.
To come up with an idea to celebrate Halloween at home, the first thing we have to do is determine the theme for Halloween night. On this day, there are many themes for you to choose and refer to, such as Horror Night Party, Halloween Silent Party, Night of fear, etc.
A small suggestion on how to dress up to be the most spooky on Halloween. It is the white and black tones with cracks and blood stains that are shaped on the face to be as "weird" as possible.
No.5 Dunking (Apple Bobbing)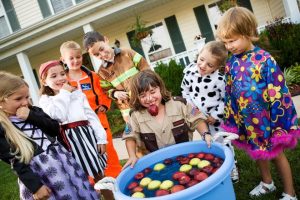 According to custom, the apple is a sacred fruit used to worship the gods, so many games are related to this fruit on Halloween night. The most popular is the competition to get as many apples as possible. In a bowl of water, or when peeling an apple, the longer the peel, the longer it will live,…
Dunking, or apple bobbing, is a traditional Halloween activity that dates back to the 14th century. It is associated with love and romance. In this game, apples are floating in a bathtub or large basin of water, and the participants have to use their teeth to pick up an apple.
Here is how the game is played:
Fill a large tub about half to three-quarters full of cold water.

Add about a dozen apples.

Each player has to try and get an apple within a set amount of time, like two to three minutes.

The catch? They can only use their mouth, and their hands need to be tied behind their back.

Whoever gets an apple in the quickest amount of time is the winner.
A variation of dunking involves kneeling on a chair, holding a fork between your teeth, and trying to drop them onto an apple.
Another popular game involves hanging molasses-covered cupcakes or bags of syrup on a tree with a string and the player having to eat without using their hands, and this is sure to make the gamer have a face covered in syrup.
Since the tradition was brought to America by British descendants, it has become much different. It is simply tied to the fall harvest and is a playful game.
No.6 The creepy Halloween activity is Visit the Haunted House.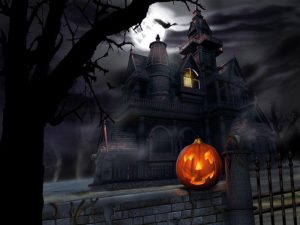 Visiting the haunted house is an activity for the not faint of heart. Haunted houses can be a ton of fun if you let kids plan and operate their version. Set rules about props, equipment, and cleaning up afterward and allow kids some free time to create their own "haunted" experience. Let the kids think through the path their visitors will take and space out spooky aspects along the way. If creating a haunted house is too scary for your child, you can create a fun fall house displaying pumpkins, scarecrows, and other fall-themed decorations. Gather neighbors and other adults to walk through and enjoy the fun.
Visiting a haunted house is an activity for those not faint of heart. If you plan on going to one, you may want to research the scare factor of each location in your area. Some may be easier to take than others. Keep in mind the ages of your group. A haunted house is probably more suitable for older kids and adults that like a little fear in their life!
No.7 Make Your Own Halloween Costume
Pre-purchased costumes can be beautiful but not "unique". You can come up with ideas and design your costumes for this Halloween season with your family.
If you are a creative person who likes to create your own Halloween costumes, you should not miss this fun DIY costume activity. Not only can this Halloween activity show others your creativity, but it can also end with a one-of-a-kind outfit just for you.
You can also design your t-shirts for yourself and your family and make them simply through Seishirt. We support you in making your design. And we have a variety of designs that you can refer to have a special Halloween. With the quality of each shirt, from the fabric to the print, we are confident that you will be satisfied. 
The Night He Came Home Holiday Halloween T-Shirt
Halloween inspired countless other horror films after its release in 1978. John Carpenter's iconic franchise has been thrilling fans for decades.
BUY NOW
No.8 Have a Creepy Food Party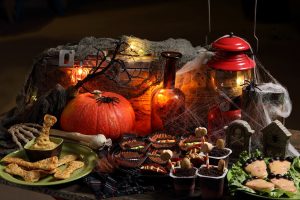 This food feeling game is super fun for kids and maybe some adults too! The idea of the activity is to fill a table with small upside-down boxes that cover a bowl of food and have guests guess what each food is. 
The fun part is that each box will have a hole cut out in the top (which is the bottom) and has a label for a gross object instead of the real food. Guests will put in their hands to feel the food which should feel like what the gross object might feel like. Then, they just have to guess what they think is actually in the box.
Here are some examples of what could be used:
For eyeballs – peeled grapes

For fingernails – sliced almonds

For worms – cooked spaghetti

For rat droppings – uncooked rice

For hearts – canned tomatoes

For dry skin – cut up balloons

For toes – mini sausages
Have fun experimenting with different foods to see what gross things they might feel like!
Conclusion
Above, we have gathered the Top 8 Halloween activities you can join with your family. Hope the article will be helpful to you. Get ready for a memorable and fun Halloween.